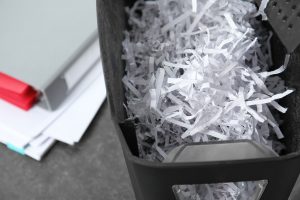 Document shredding is critical in protecting your information. If files and devices are simply thrown out, your private and proprietary information can find its way into the hands of criminals. 
Protect your business, employees, and customers with shredding and hard drive destruction services. They will ensure that your information is safely destroyed and unrecoverable. 
Our Document Shredding Services
Shredding protects your information from being exposed or used with ill-intent. It also keeps you in compliance with privacy laws. Our shredding providers follow all federal and state laws, as well as HIPAA and FACTA regulations.
We offer several shredding options to meet the size and frequency of your shredding needs:
Drop-off locations: Best for small shredding projects, available as needed for drop in services.
Mobile shredding:

We come to your location and shred onsite. 

Off-site shredding: We will pick up your documents and deliver to an offsite facility for destruction. 
Shredding is available on a recurring basis with weekly, monthly, and annual service options. You can pair shredding with scanning and storage services to dispose of documents you no longer need. Shredding can help you stay organized, manage retention dates, and clean up the paper clutter in your office. 
Hard Drive Shredding and Degaussing Services
Hard drive shredding and degaussing work to destroy digital data that is stored within your hard drives and prevent recovery of your private information. 
Here are some ways to properly dispose of electronic media:
Hard Drive Shredding:

Shredding breaks down your devices, shreds the pieces, and recycles the fragments. It completely destroys the entire device making your data impossible to recover. 

Hard Drive Degaussing:

Degaussing uses high-powered magnets to scramble your data making it difficult to decipher. 

Hard Drive Crushing:

Crushing punches holes into your hard drives to shatter the platters and destroy your data. 
Protect Your Data With Document Shredding Services Today
Shredding services are the final step in the document management process. Proper disposal of your media and documents will ensure that your confidential information remains private. Stay protected and in compliance with Record Nations today. Call us at (701) 219-7243 or fill out the form to receive free quotes from local providers today. 
Record Nations Fargo Location
Record Nations Fargo
19 8th St S
Fargo, ND 58103
(701) 219-7243
fargo@recordnations.com
Our operating hours are Monday-Friday from 8:00 AM to 6:00 PM.
Record Nations proudly serves these cities near the Fargo area:
Argusville | Dilworth | Harwood | Moorhead | West Fargo