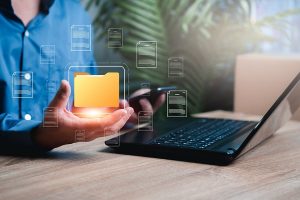 Secure document storage services keep your information safe and accessible while not in active use. Record Nations offers many storage solutions to help your company protect its records and stay organized. 
We can assist you in moving your files out of the office to an off site facility, transferring digital data to the cloud, or digitizing your entire business. 
Our Storage Options in Fargo
Physical Document Storage
Clean, open workspaces increase productivity and efficiency. Physical document storage allows you to move your files out of the office and into a local storage facility to open up space.
Your files will be safeguarded with advanced security features and protected from the elements with fireproofing and flood protection, while still giving you complete access as needed.
Cloud Storage and Services
Digital files benefit your business when they are organized and accessible. Cloud storage and services provide a centralized location for your digital documents. Tagging and indexing is included to keep your files structured.  
Encrypted files will keep your information safe; while allowing you to access, edit, and collaborate on files from anywhere. 
Document Management System Software (DMS)
Document management systems (DMS) give you remote access to all of your information. You will be able to customize security levels for your employees to permit or restrict access to files.
Your team will have the ability to build and edit files without redundancies. You will be able to collaborate with your team from anywhere and see a boost in productivity overall. 
Get The Right Document Storage Service For Your Business Today
Organization is the foundation of successful business. Frustration-free storage that is structured and controlled will boost productivity and increase your profits. Fill out the form or give us a call at (701) 219-7243 to get started with our document storage services today. We are eager to help you better manage your documents and get organized. 
Record Nations Fargo Location
Record Nations Fargo
19 8th St S
Fargo, ND 58103
(701) 219-7243
fargo@recordnations.com
Our operating hours are Monday-Friday from 8:00 AM to 6:00 PM.
Record Nations proudly serves these cities near the Fargo area:
Argusville | Dilworth | Harwood | Moorhead | West Fargo