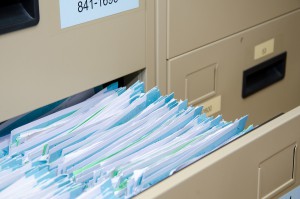 Determining what to do with your important files can be challenging, especially if you have numerous documents and all of them appear to be necessary for your daily activities.
Business owners can have a particularly difficult time choosing which files to place into storage, if their livelihoods rely on the regular accessing and referencing of documents to provide clients with quality and timely customer service.
Luckily, digitizing documents can provide an easy and affordable way to keep and manage files. Storing paper documents in an off-site location can also free up office space, while still maintaining ownership of files.
Digitize Your Files to Save Time, Money, & Space
Advances in computer technology and an increase in the affordability of portable storage media make it possible for business owners to scan and keep thousands of digital documents in their offices without having them encroach on limited space.
Documents that have been digitized can be organized using special records management software, which can allow for easy file access, referencing and comparison in document-driven industries.
Digitizing documents can also contribute to a paperless work environment, which can result in better organization and records management practices. Some research suggests that converting documents to electronic documents may even help businesses save money and protect profits, as less time will be wasted by employees attempting to maintain paper filing systems and find lost documents.
Digital documents should be stored in high-security environments protected by passwords and other multi-layer security measures designed to deter unauthorized access and theft.
All physical media should be placed in environments with temperatures less than 73 degrees Fahrenheit, and with a relative humidity of less than 50%. Physical media should also be kept away from potentially damaging environmental factors like magnetized objects, dust and moisture.
Offsite Document Storage
If you're a proprietor who regularly handles numerous client files, and need to keep them for several years, you may consider placing your older documents in a secure off-site storage facility.
These facilities offer you a way to keep your inactive paper files while freeing up space in your office for your current clients' documents.
When relocating your files to a storage facility, be sure to stay organized.  Put newer files that are more likely to be referenced at the front of your boxes for easier access.
Make sure to check with the facility to ensure they abide by laws and regulations set forth by your business's governing entities.
Good Paper Record Packing Practices
Storing paper documents can require a few practical preparation activities. Make sure that any potential storage environments are acid-free.
This includes choosing protective storage components, like plastic sleeves and containers, which have been made without polyvinylchloride.
Ideally, all paper documents destined for storage should be printed or photocopied on acid-free paper, the humidity levels of any storage space should be regulated, and light and heat sources should be minimized.
If you can, paint the walls of your storage space with a light color to prevent any damage that may result from sun exposure and proximity to light fixtures.
Use shelving units when you can, and avoid placing boxes of records directly on the ground. Pack all records tightly and clearly label them for easy identification.
Finally, have a contingency plan. Regardless of all necessary precautions being taken to protect your paper documents' integrity, unforeseen circumstances, like accidents or disasters, can threaten or destroy your files.
Make copies of original records when possible, and consider digitizing them, if you haven't already.
Get FREE Quotes on Document Storage & Management
Information governance is an ever changing field as federal and state laws require more retention and faster discovery. Our network of document storage and document management experts will help your company maintain your documents regardless of the file type or format.
Let us help you manage your hard-copy records or guide you through a transition to a paperless office. From Document Scanning to Offsite Document Storage, our experts will help you select a customized Document Management Solution that fits exactly what you're looking to do for your company.
We have locations all across the United States to serve you offsite document storage needs. Fill out the form to the right, or give us a call at (866) 385-3706.  
Within minutes of receiving your request, you will have free quotes from experts in your area that can help you.