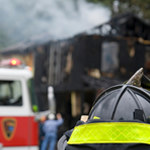 According to the National Climatic Data Center's Climate Extremes, 2012 was the most extreme weather year on record in the lower 48 states.
According to the US Department of Labor, more than 60% of small businesses close within two years of a major disaster.
Do you see a connection? A fireproof file cabinet is no longer sufficient to protect your crucial business data. No matter how large your company may be, or where it operates, the potential for disaster to strike and wipe out your business is very real.
And natural disasters are only part of the story. Man-made disasters — terrorism, IT systems failure, or even a malfunctioning sprinkler system – can devastate your organization.
Recovering from Disaster with Electronic Document Management
In many instances, electronic document management, combined with a Disaster Recovery Plan (DRP) and Business Continuity Plan (BCP), can mean the difference between recovering crucial documents and technology infrastructure…or going out of business. In the same way families might practice drills in preparation for natural disaster, businesses must create and communicate emergency plans to preserve and access mission-critical information while minimizing business disruptions.
An online document management system can achieve this goal. Document management aims at combining electronic data with scanned paper files to tie files together in a central repository for easy storage and retrieval.
Talking About Electronic Records Management
Record Nations, an online document management firm, suggests starting a discussion with these questions:
How can we protect our documents against fires, floods or natural disasters?
How do we decide what documents to retain?
How will we store our documents?
How can we help employees quickly find the documents they need?
What is the best method for organize and filing our documents?
How can employees best collaborate on documents?
How can we protect against document loss, tampering or destruction?
Protecting Documents for Life
In fact, online document management can preserve and protect business communications through every stage of the document's life, including:
Information secured offsite in a centralized location
Document storage and retrieval via servers located in protected data facilities
Easy document access via the Internet from any global location
24/7 online document storage facility operations for uninterrupted data availability
Automated back-ups, even when your IT team or system is unavailable
Guaranteed safe process and security controls