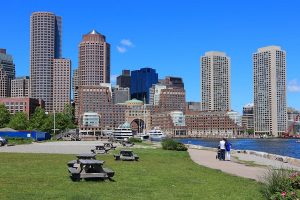 In Boston, selecting the right medical record scanning or medical record storage provider can be challenging.
When it comes to medical records, it's important to make sure that an off site storage facility is secure against theft, damage and misplacement. A records storage facility dealing with medical records needs to be efficient and secure when scanning and converting patient records and other records.
Record Nations Boston is a full service records scanning and storage for medical records or any related business from dental offices to hospitals. Record Nations are a consistent and reliable way to get results without sacrificing quality or time.
It is incredibly important to ensure that your business is HIPAA and HITECH compliant. Record Nations can help you index, scan, and store you records in order to ensure that you remain compliant.
Preparing Medical Records for Scanning in Boston
All medical records contain Personal Health Information. This means that handling medical records entails keeping the information private and secure at all times. The processing and moving of PHI is a precarious situation and it is imperative to remain HIPAA and HITECH compliant the whole time.
Beyond remaining legally compliant, patient privacy is pertinent to ensure that your business maintains a good relationship with your patients.
Medical Records Custodian
 When a Boston healthcare facility closes, a person or company is appointed as the custodian to manage the patient records. Each state has different rules and guidelines for how long a record needs to be stored, Massachusetts requires a minimum of 7 years.
Custodians of medical records can store physical copies in a secure storage facility or scan the documents and store them electronically using an EMR system. With either option, patient records must be readily available upon request. Failure to produce forms could result in fines or penalties.
Record Nations Boston can help you find a local provider to manage your records, release needed information and destroy the records after the retention period. 
Need to Start a Medical Scanning Project?
To get started, fill out the form or give us a call at (857) 254-1473. Within minutes of receiving your request, an agent will be in contact with a free, no obligation quote.
We can handle your project efficiently and securely so you can have peace of mind when undergoing this stressful project.
Record Nations Boston Location
Record Nations Boston
6 Liberty Square
Boston, MA 02109
(857) 254-1473
boston@recordnations.com
Our hours of operation are Monday-Friday 8:00 AM to 6:00 PM.

Record Nations is proud to service Boston and these nearby areas:
Amherst | Cambridge | Chicopee | East Longmeadow | Holyoke | Northampton | Pittsfield | Springfield | West Springfield | Westfield | Worcester | Boston | Chelmsford | Fitchburg | Framingham | Lexington | Lowell | Marlborough | Newton | Shrewsbury | Waltham