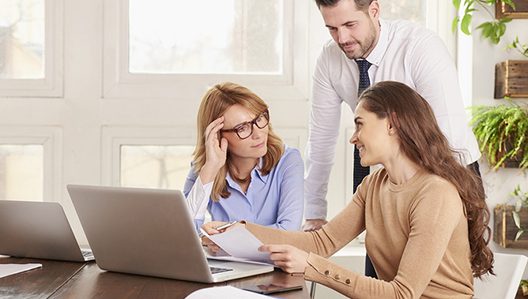 You have a number of options when it comes to choosing which storage service is best for you, and knowing which to choose can be difficult.
Watch the video or read the transcript below to learn more about what those options are, what they can do for you, and when you should choose one over another.
Video Transcript
Off Site Storage
As its name implies, off site records storage allows you to store boxes of files in a secure, climate-controlled facility. In turn, it saves you space and ensures your sensitive information is safe.
Additionally, off-site storage can also simplify overall record management, as facilities can often handle shredding as well.
How Off Site Records Storage Works

First, you collect documents and fill up storage boxes. Additionally, you organize the file boxes on their retention times.
Boxes are then taken to a facility and labeled with a barcode to group boxes and help providers set up retention tracking for your records.
You can monitor your file inventory through web portals, check on or set up retention schedules, and get notifications when records are nearing the end of retention times.
Old records are shredded and you're given a formal certificate of destruction with details including where and when the shredding took place as well as chain of custody.
Document Management System (DMS) Storage
Document management systems (DMS) provide an organized structure for your digital documents. DMS systems have complex capabilities allowing you to convert records to the proper digital format, index them based on custom specifications, use keyword search functionalities to find files, set access controls, and search and edit digital files quickly and easily.
The advantages of a DMS include customizable digital storage solutions that provide version control, security, and remote digital document access. As a result, it provides employees a quick and secure way to access the files within this framework.
How DMS Implementation Works
Scan the records you plan to integrate and ensure the old papers you no longer need are shredded.
Optical character recognition (OCR) is applied during the scanning to make files editable.
Your new files are returned on a hard drive where they can be uploaded and indexed in the DMS.
Files can be set up with access controls, retention tracking tools, and document redaction.
Cloud Storage Instead of a DMS
Many small businesses can't afford to manage and maintain on-site technology resources. This makes cloud storage a great alternative because you can upload and store files off site and access them online.
There is little (to no) internal IT involvement, and it lets you store massive amounts of information remotely. In turn, it helps protect your data, backup files regularly, and access your files whenever and wherever you need them.
Microfilm Storage
Microfilm is stores tiny micro-reproductions of document images on a film roll. Because their size, it is roughly 1/25 of the original size, and microfilm is typically a backup storage option.
Storage capacities range from 2,400 standard documents to 600 engineering drawings, and a microfilm roll can have a shelf life of 100+ years. This makes them an efficient and long-lasting way to manage backups.
How Microfilm Storage Works
Similar to off site records storage, microfilm is stored at film-specific storage facilities that include things like:
Climate controls: microfilm storage facilities are equipped with fire-suppressant and climate-control systems to regulate humidity.
Security: multiple security steps are taken including 24-hour facility video monitoring and physical security protections.
Retention tracking: retention times for different film rolls can be tracked and followed by a notification to you when times are set to expire.
Records Storage Strategies
To determine the best storage methods, you first need to evaluate your own records storage needs:
Do you have paper files, or do you want to go digital?
Are there records you don't use and only keep for retention requirements?
How many people are normally using the records you store?
Do you have secure backup copies of your records?
When to Use Off Site Records Storage
Some paper records require you to keep them for compliance reasons. However, off site storage is usually the best option for documents you rarely use.
You can store file boxes offsite instead of paying for files you'll never use. Additionally, it can track their retention times and record when the need to be shred after expiring.
When to Use a DMS or Cloud Storage
DMS
Cloud Storage
With a large amount of files, on-site servers for a DMS are faster and more stable since they don't require internet

When you need more complex functionalities, tools like access controls and retention tracking can be implemented

When you want digital files but need to save space, cloud storage can be used to store on off-site servers instead of storing in-house

If you need wider access to your files, you can access them on the cloud from anywhere with a secure internet connection.
Using Tape and Microfilm Storage
One of microfilm's greatest advantages is its high-volume capacity along with its long shelf life. Similar to off site, microfilm can be a good option for records you do not use or need to keep.
Like microfilm, backup tapes are small but have a high capacity. This makes them ideal for data backup strategies where backup tape rotation can simplify backup version management due to the small size of the storage device.
Hybridized Records Storage
Another storage strategy is to combine and create a hybrid of off site storage for the paper records you rare use, and a DMS system or cloud storage for the documents you use frequently
| | | |
| --- | --- | --- |
| Off Site Storage | | DMS/Cloud Storage |
| By storing records that would otherwise go untouched if scanned and added to a DMS, off site storage can help to save on scanning costs as well as the space needed to store paper records | | Using a DMS or cloud storage system can help to manage what you use frequently. Additionally, you can streamline your work efficiency and save money, save space, and take advantage of other digital storage tools. |
Need to Create a Records Storage & Management Plan?
Record Nations has document storage providers across the United States. We can help if you need off site storage or help with more complex management systems.
To let us help you find a provider for your scanning or storage project, fill out our form, give us a call at (866) 385-3706, or contact us directly through our live chat. Afterwards, you'll receive a free, no-obligation quotes from services near you.