When your documents pile up and you need somewhere to store them, using a local walk-in records storage location can be a great alternative for quickly finding a secure and convenient storage space near you.
In the following video, learn more about what is a walk-in storage service, how much it costs, and where and how to find storage services nearby. Below you will find a step-by-step guide to finding your closest location, preparation tips prior to storage, and how the process works.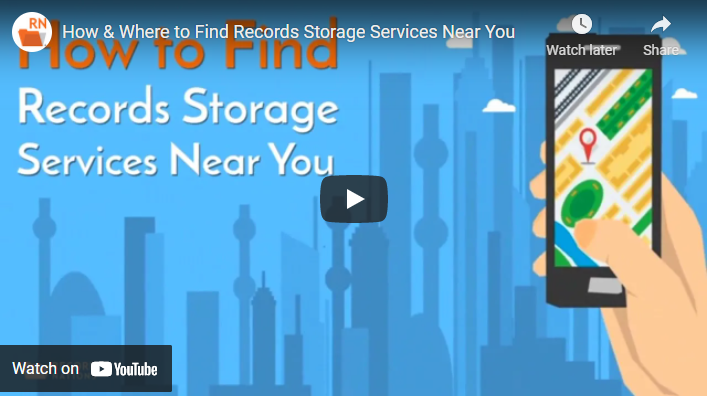 Where to Find Nearby Storage Services
When you have a large amount of records that take up too much room or you don't use often, using a walk-in storage service to drop off the files you need to store is a easy solution.
Retail storage locations provide both an easy and inexpensive way to store paperwork at secure off-site facilities, and with locations scattered across the country and in most major cities, nearby records storage is always easy to find.
What Is Walk-In Storage?
Just like it sounds, with walk-in storage services you can simply stop by and drop off your document boxes to be safely stored at an off-site records storage facility.
When you come in, the process is as simple as counting up the number of boxes then pricing out the project based on the location's storage cost per box, per month.
From there, your boxes are collected and taken to a secure storage facility.
How Much Does Walk-In Storage Cost?
Walk-in storage works as a price per box per month service. On average, document storage costs between 50–95 cents per box per month.
Despite that though, it's important to keep in mind that prices can vary from place to place.
How to Find Your Nearest Walk-In Storage Location
Here's a quick outline on how to use our walk-in services.
Getting Started
Click the locations link in our main navigation:

Selecting Your Location
This will take you to our main walk-in directory page. You can start your search for a drop-off location near you or request a quote immediately.
There are two options you can use to find the location nearest you:
Use the zip code search tool to find drop off locations in a specific area
Click on any of the states on the map to visually search for walk-in locations in states and cities
Narrowing Your Search
After entering your information, you'll see this page, which gives you the locations that are closest to you. Click on 'Visit Site' to see the individual pages.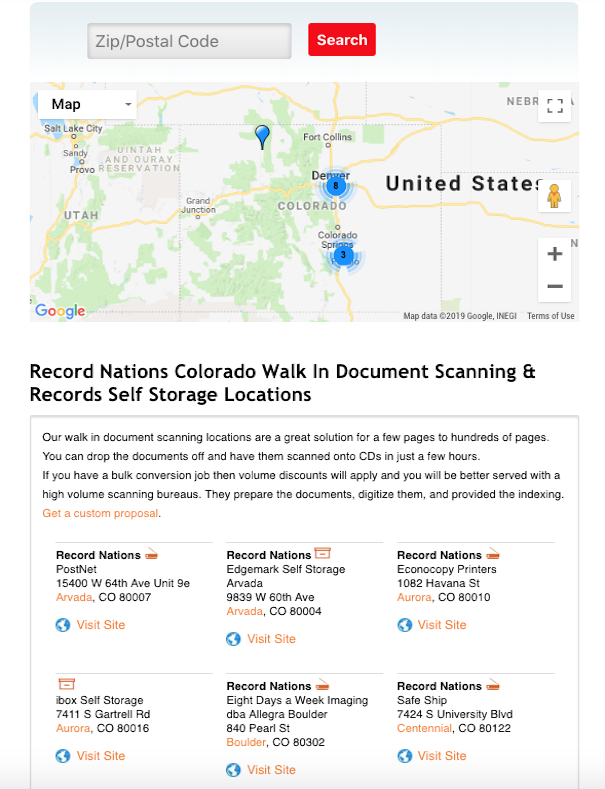 Getting Specific Location Details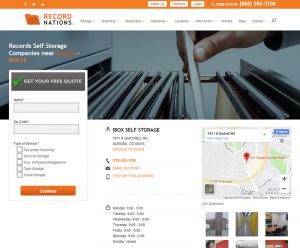 After clicking 'Visit Site' you will see the detail page for the location you selected. This page will provide information such as:
Address
Phone & email contact information
Reviews
Map
Location hours
"Text me this address" tool
Getting nearby scanning services is that simple. If you have any questions, don't hesitate to give us a call at (866) 385-3706.
Walk-In Preparation Tip: Label How Long to Keep Each Box
Before coming in, it's a good idea to label and group boxes based on how long you need to store them.
Besides helping both the provider and yourself keep a well-organized records management system, storage facilities can also use the labels to shred your old papers once the storage period expires.
Searching for Nearby Storage?
Record Nations specializes in helping you find the right with records storage service for your needs through our network of partners across the United States. If you need help finding a walk-in location near you, fill out the form or give us a call at (866) 385-3706 for a free no-obligation quote from providers in your area.