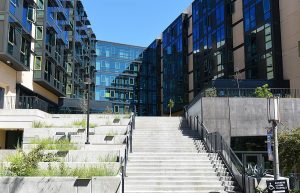 It can be quite a hassle going through documents trying to find the right one. Many storage systems don't end up working correctly, so you have to rummage through thousands of files. This is why document storage services are a more efficient and cost-effective method.
Record Nations is here to help you prevent the entire issue with our document storage services. We can assist you by clearing out the filing cabinets, storing all your documents at one of our facilities, setting you up with cloud storage, or setting up a document system Software.
Our Storage Services in Irvine
Physical document storage will make more room in your office when we remove all your documents and store them at a local secure facility. Your documents will be out of your way. However, you will still have complete access to them whenever you'd like.
They will be stored in a climate-controlled room so you won't ever have to worry about the conditions of your important files.
Record Nations can scan, tag, and index your documents to your exact specifications. Therefore, you will always know where they are located, and a simple keyword search can locate your document.
Cloud storage is also flexible, so it will grow in capacity or shrink per your data entry. This way you never worry about reaching a certain limit.
DMS eliminates any inconveniences an employee may have when working from home. It enables remote employees to access information from anywhere online.
The documents can be accessed, edited, and transferred seamlessly. Additionally, you will have complete control over who has authority over what pages.
Get Free Quotes on Document Storage Services in Irvine!
Let us assist you in finding a document storage service close to you when you call (949) 383-4768 or fill out the form.
Record Nations Irvine Location
Record Nations Irvine
40 Tesla Suite B
Irvine, CA 92618
(949) 383-4768
irvine@recordnations.com
Our normal operating hours are Monday-Friday from 7:30 AM to 5:30 PM
Record Nations proudly services the following cities throughout the greater Irvine area:
Anaheim | Apple Valley | Beverly Hills | Burbank | Camarillo | Cathedral City | Chatsworth | Chino | City of Industry | Claremont | Corona | Costa Mesa | Culver City | Gardena | Glendale | Hemet | Hollywood | Huntington Beach | Laguna Hills | Laguna Niguel | Lancaster | Long Beach | Los Angeles | Manhattan Beach | Mission Viejo | Monterey Park | Murrieta | Newport Beach | North Hollywood | Ontario | Orange | Palm Springs | Pasadena | Riverside | San Bernardino | San Juan | Capistrano | Santa Ana | Santa Monica | Seal Beach | Sherman Oaks | Simi Valley | Temecula | Thousand Oaks | Thousand Palms | Tustin | Valencia | Van Nuys | Ventura | Walnut | Westminster | Whittier | Winchester | Woodland Hills